Former Sri Lankan president Gotabaya Rajapaksa wishes Sri Lankan cricket team, leaves the State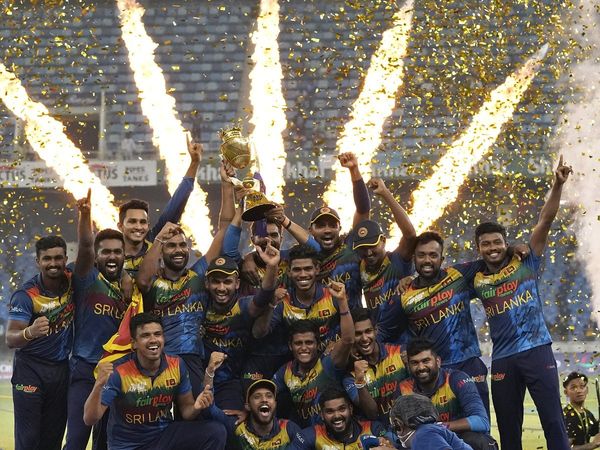 Sri Lanka Cricket Team&nbsp | &nbspPhoto Credits:&nbspAP
Headlines
Former President's congratulations on Sri Lankan team's win
Gotabaya Rajapaksa congratulates Sri Lankan team on victory
Sri Lanka defeated Pakistan in the Asia Cup 2022 final to win the title and former President Gotabaya Rajapaksa took to social media to congratulate the national cricket team on a resounding victory, who had left the State following strong protests against his government. Sri Lanka clinched their sixth Asia Cup title by defeating Pakistan by 23 runs in Dubai on Sunday to bring joy to the people of the financially crippled State.
Rajapaksa, who returned to Colombo from Thailand on September 2, tweeted on Sunday: "Congratulations to the Sri Lanka cricket team for their victory against Pakistan in the Asia Cup 2022 final in Dubai. The commitment and 'teamwork' shown by the Sri Lankan team was phenomenal." In his last tweet as president, he condoled the death of former Japanese Prime Minister Shinzo Abe on July 8.
Rajapaksa left the State on 13 July and went to the Maldives. After this he reached Thailand after going to Singapore. Now he is in Colombo under tight security. Sri Lankan President Ranil Wickremesinghe also congratulated the national cricket team for winning the Asia Cup. He tweeted, "Congratulations to the Sri Lankan cricket team for winning the Asia Cup 2022. Pakistan played well.
He said, "Victory in the second championship today." The Sri Lankan netball team also won the 2022 Asian Championship on Sunday.
He also wrote, "It shows that with dedication and determination we can overcome challenges as a State."
Sri Lankan Prime Minister Dinesh Gunawardene on Monday praised the national cricket team. "He made the State proud by winning the Asian Championship," he said in a statement. This win is even more important because our cricketers came back from the initial setbacks and put on a great game in the final.
"I would like to thank the team members, their coaches, managers and all those who worked to bring Sri Lanka back to the Asia Cup after a gap of so many years. Our cricket team again proved to the world its ability to overcome challenges and emerge victorious.

For More Sports News Visit THEKASHMIRNEWS.com