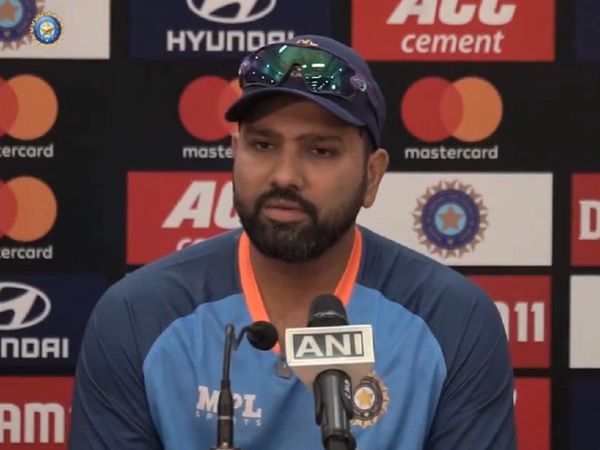 Indian cricket team captain Rohit Sharma(courtesy BCCI)&nbsp
Headlines
Rohit Sharma interacts with the media ahead of the three-match T20 series between India and Australia
The confidence of the team has increased due to the aggressive game method
Players will have to get out of comfort zone before T20 World Cup
Mohali: With India already selected for the T20 World Cup, captain Rohit Sharma wants his players to step out of the 'comfort zone' and tour Australia and South Africa ahead of next month's ICC tournament. Add something new to your game in the six matches played against.
Many players have been given rest before the World Cup
Rohit said that the players are no longer under pressure regarding the selection of the team and in such a situation they can push their limits. The team management is resting players like Hardik Pandya, Bhuvneshwar Kumar and Arshdeep Singh from these six matches but in a way, only a strong team of India will enter these matches.
Rohit wanted to bring a sense of security in the team
Rohit's remarks came at a time when the team management did some experiments in the Asia Cup for which he had to face criticism. Rohit said before the first match against Australia, 'I wanted to instill a sense of security in the team and that's why we announced the squad for both these series and the World Cup. We were almost the same team in the Asia Cup as well.
"In these six matches, we want to try what we can achieve in different styles. It is about trying new ways that know no bounds. You can push yourself in many directions to achieve many things for the team.
Players have to get out of the comfort zone
Virat Kohli stepped out of his 'comfort zone' in the Asia Cup and played a sweep shot like he didn't before. Rohit wants even the bowlers to push their limits. Rohit said, 'We will motivate the players to try more things. For example a batsman who cannot play reverse sweep can he do so and can he do so correctly. Do things you don't feel comfortable doing and see what happens.
The Indian captain said, 'When you go to play the World Cup, you should have answers to all these things. For example, as a bowler, he can bowl a yorker or a bouncer in his opening spell.
Team's aggressive game attitude will continue
After an early exit in the T20 World Cup last year, India changed their approach to batting and Rohit said the team will continue its attacking game and will have an alternate plan if wickets come early. He said, 'We will continue to play like that. We talked about it candidly when my captaincy stint started and everyone is comfortable with it. Apart from this, if we are in trouble, then we also know another option of rescue. We have spent a lot of time talking about these things.
Ready team's game plan for every situation
Rohit said, 'The players know very well how we have to bat if our score becomes 10 runs for three wickets. If our score is 50 without any loss then how do we have to bat. These things have been discussed for a long time and now they are yet to be implemented.
Confidence is increased by aggressive attitude
Regarding the batting style, Rohit said, "The attitude we have adopted has given us confidence that we can play like this. This is a very good sign. After these six matches we will have another review meeting and then we will see what we have to do in the World Cup.

For More Sports News Visit THEKASHMIRNEWS.com