Moeen Ali ka bayan: Moeen Ali says England's tour of Pakistan will be challenging and he has extra responsibility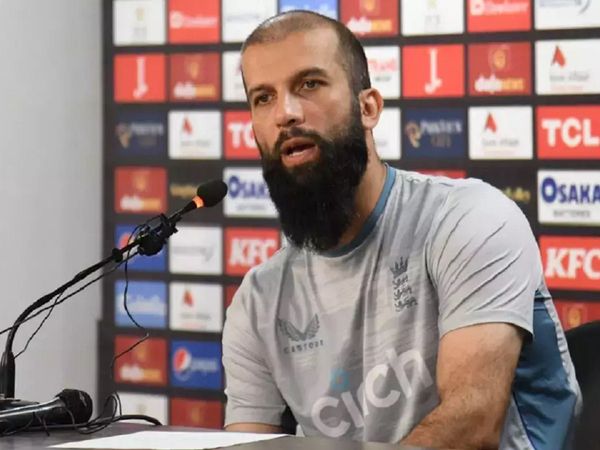 Moeen Ali&nbsp
Headlines
Moeen Ali termed Pakistan tour challenging
Ali said this tour is important to prepare for the T20 World Cup
Moeen Ali said that his team will be tested hard in this series
Karachi: Moeen Ali is set to replace skipper Jos Buttler in the T20I series against England starting here on Tuesday. At the same time, Moeen Ali has said that this seven-match team will be a tough test as the team prepares for the T20 World Cup to be held in Australia. Moeen also said that coming to play in Pakistan, where his grandfather lived before moving to England, was the 'most special' feeling.
"Of course, this tour is important for cricket and it is also important for us as a team," Moin was quoted as saying by the Daily Mail. There will be a tough test for the team in the seven T20 matches before the T20 World Cup to be held in Australia next month. Moeen said it was embarrassing to lose to New Zealand in the ICC T20 World Cup semi-final in the United Arab Emirates last year. He also said, 'After the loss, there were a lot of changes in the team and Australian Matthew Mott was the head coach of the team.'
There have been some changes in our team since last year's loss to New Zealand in the World Cup semi-finals and with the retirement of Eoin Morgan and the injury of Jonny Bairstow, I have some additional responsibilities on my shoulders. England team has come to Pakistan for the first time since 2005. I was 18 then. I am 35 now and I must admit that I have been looking forward to this journey for a long time.
He further said, 'When my grandfather Shafayat came to England from Pakistan after World War II, he too would have imagined that his grandson would return to the State of his heritage and represent the State as a professional player. I have had the privilege of doing many foreign trips as an England cricketer, from Australia to South Africa to the Caribbean, but this tour of Pakistan may be the most special. Moeen added the fact that many of his team-mates had played in the Pakistan Super League (PSL), which would lead to a lot of competition in the T20 series.

For More Sports News Visit THEKASHMIRNEWS.com